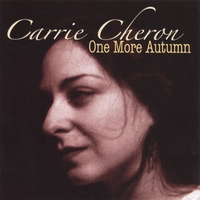 It's not uncommon for a folksinger's bio to mention the influence of James Taylor, Suzanne Vega, and Linda Ronstadt. It's a lot rarer for the bio to go on to mention degrees in classical vocal performance and experience in the Jewish, Arabic, and gospel traditions. It's almost unheard of for a musician to live up to that many promises. But Carrie Cheron is that rare new recording artist who sounds completely authentic and passionate and at the same time polished and poised. Her debut album, One More Autumn, is a relaxed collection of acoustic performances that shows off her songwriting chops and her burnished mezzo voice to beguiling effect.
Carrie Cheron has been gigging around Boston and New York for a few years, but has also had a series of side gigs, including church musician (through which I should mention that I became acquainted with her, in the interest of full disclosure), that have carried her into some different idioms and musical traditions. The variety of her experience stands her in good stead on Autumn, which has a wide emotional range and plays with some interesting contrasts. The mood of the songs ranges from relaxed and reflective in "Goodbye Amelia," "Autumn," and some of the other folksy numbers, to mischievously mellow in "Untitled Song About Drinking Alone" to somber and mournful in "Ghost Town." To my ears the standout track is "Arms of Our Brothers," which sounds by turns anthemic and balladic and would not be wholly out of place in a worship service. Carrie's choice of cover material and texts (including a fine performance of "I'm So Lonesome I Could Cry" and an adaptation of Christina Rossetti's "Echo" as "Julie's Song") is solid as well.
Gripes? A few minor ones. Carrie's voice is sometimes a little too low in the mix, particularly on the first few tracks where the backing vocalist is a little too prominent. While I appreciate the choice of traditional instrumentation, I personally could have done without the mandolin on a few tracks, especially on "Time" where it distracts a bit from the performance. When Carrie's vocals, melody, lyrics, and accompaniment gel perfectly, as they do on "Arms of Our Brothers" and "A Rainy Night," they hit with an incisive clarity like sunlight through a high window. Carrie may be her own most sensitive accompanist, as both these numbers are primarily driven by her piano.
My take on the album: it's a compelling voice heard across a crowded room. I look forward to the next one clearing away some of my production quibbles so we can hear the voice more clearly.