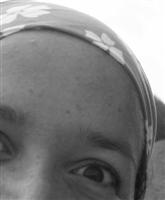 …No, Esta isn't 40, but today is one of those other big milestone birthdays for my kid sister. What a long strange ride it's been: a ballerina, cellist, artist, writer, Wahoo, archaeologist, financial analyst, sometime blogger, preacher, and all around great person. I'd be happy to recommend her as one of the finest people I know… odd incriminating bandana'd pictures notwithstanding. And she's just entering the best years of her life, whether she knows it or not.
By way of present, I offer these words from a better writer than I:

you shall above all things be glad and young
For if you're young,whatever life you wear
   
it will become you;and if you are glad
whatever's living will yourself become.
Feel free to send her happy birthday wishes using this handy spam-free form. Or check out her 2001 proto-blog on this site (her personal blog is no longer available).