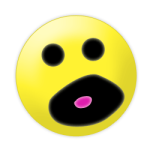 He's back, and this time he's in your Dashboard (on Tiger, that is). The infamous Jared, the Butcher of Song, is now available for Mac OS X 10.4 as a Dashboard Widget. From the release notes on the Freeverse blog:
Jared has long been an affront to the senses, an insult to the diatonic scale, an inappropriate "yo-mama" joke told over-loud at the elegant dinner party of internet culture, but never has Jared been as much of a waste of hard drive space as he is as a widget.
For full background on Jared, you'll have to go to the Wayback Machine, or this old feature article from Wired. Briefly, though, Jared is a little round smiley face who lip-syncs to a wonderful, wonderful Guatemalan song, performed as though cats were being tortured in the vicinity. (Actually, his original biography stated, "Never has the mating of cats sounded so melodic as after one has listened to 'El Carnicero de Canciones,' the 'Butcher of Songs,' as Jared was known in Guatemala.")
The Windows version of Jared appears to have gone the way of all flesh (the version I found on line doesn't even run in Windows 95 compatibility mode under Windows XP), but if you download the Mac OS X version to a Windows machine, you should be able to unzip it, go into the directory, and play the song for yourself. Should you really wish to torture yourself, that is.
(Footnote: when I was working for AMS, I wanted to stress test our ability to embed arbitrary Windows files as documents in our procurement document management software, so I uploaded the WAV file of Jared's song into our database. I wish I had thought to route the thing along for approval to my co-workers. I almost succeeded in embedding him as an Easter egg in the app, too, but cooler heads prevailed.)