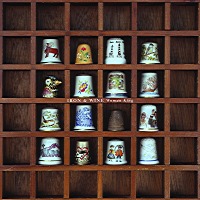 The first time I ever heard Iron & Wine, I was on the bridge over Lake Washington heading from Seattle into the forested eastern shore of the lake. It was about 10 o'clock at night, and a voice that sounded like it might have come from a century ago was coming over KEXP's airwaves. I got off the road, rolled down my windows, and listened to the song ("Upwards Over the Mountain" from The Creek Drank the Cradle) as a chill went down my spine. As I heard the rest of that first album and then the 2004 follow-up, I was still taken by the hushed intimacy, but I started to wonder if the other shoe would drop, or if the band would, like the Cowboy Junkies, keep making the same record over and over again for ten years. Iron & Wine's new EP, Woman King, which hits the streets on February 22, happily answers no: this is a welcome evolution in Iron & Wine's sound.
Like the Talking Heads in their live concert movie Stop Making Sense, Sam Beam has slowly added instruments and layers to Iron & Wine's sound over the course of two albums and two or three EPs. The most recent EP, Woman King, adds fiddles, and even an electric guitar to the mix, while keeping the delicate vocal harmonies and gentle melodies that have been the bedrock of Beam's sound.
That's where the similarities end to Beam's previous work. The lyrics, while focused tightly on women, cover a wide thematic ground. "Woman King" imagines the title character as an apocalyptic warrior, the Biblical ("Jezebel") to impossible couplings and doomed relationships ("Evening on the Ground (Lilith's Song)").
The biggest difference, though, is the driving spirit. In fact, "Evening on the Ground," with its driving rhythm and dueling fiddle and electric guitar, is positively aggressive—not an adjective that you'd apply to any earlier I&W releases. Other songs are actually playful—an observation Beam himself made in an interview for Splendid Magazine conducted while the record was being made. If The Creek Drank the Cradle was a lullaby and Plug Award winner Our Endless Numbered Days a ballad, Woman King is a swinging dance across a sawdust floor with a once-taciturn partner. Beam's songwriting continues to astonish with intimacy and newfound confrontation, and the broader sonic and lyrical palette that this release displays shows him to be a master who's still growing. If this is the EP, I can't wait to hear the next album.
This review was originally posted at BlogCritics.