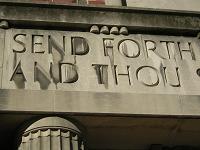 Following up on the thread about the camera purchase, here are my notes about my first pictures from the Nikon Coolpix 2200. The sample I'm using is the album I took in Boston on Saturday, May 29.
First point: The built-in memory in the camera is good for about 36 or 37 photos using the default settings. After a few rounds of importing and deleting photos (interestingly, iPhoto can't erase imported photos from the camera's built in memory as it can from removable media), I bit the bullet and picked up a 128MB SecureDigital card. The capacity looks like about 225 or so images—adequate for a weekend's shooting. At some point I may consider this handy little iPod accessory to provide additional storage. Battery life is OK—the camera is still going after about 100 photos on the first set of AAs.
I wonder now whether I had the settings correct for these photos. None of the photos in the album is larger than 800 x 600, but the camera is supposed to support up to 1600 x 1200. This could also be an artefact of iPhoto—I'm not near my PowerBook, so I don't have a way to check the original image sizes.
In general—and again this may be an artefact of the process for sending the photos up to the photo album—the images don't appear to be very sharp. Some blurring and color fringing around diagonal sharp edges is visible, for instance in this picture of the North End after the removal of the elevated Central Artery (look at the two street signs), or this close-up of the tower of Park Street Church. Some images also appear a little dark even though they're taken in broad daylight, for instance in this shot a lot of detail in the buildings to the left is not visible.
The stronger point, I think, is that the camera isn't going to make me a better photographer by itself. Hopefully I'm learning a few things by looking critically at my results and will improve by taking more time with each photo and considering issues of lighting, etc. Maybe even a short course—who knows? I just know it will be a long time before I'm in the league of some of the better photobloggers out there.
Incidentally, the cryptic fragment of text in the image above is from an inscription above the door of the Paulist Chapel on Park Street across from Boston Common. The full inscription, if not the full facade, can be seen at the Paulist Center Community Boston web site.