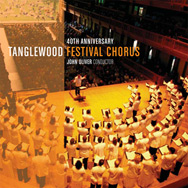 The BSO
announced two new albums this week
. I'm looking forward to hearing the
Carter
, and am ordering multiple copies of
TFC: Celebrating the 40th Anniversary of the Tanglewood Festival Chorus
. Not because it's my chorus (I'm not on the disc–these were small group recordings that went through the year I started with the chorus), but because the repertoire is astonishing. A pair of Bruckner motets, including the
Christus factus est,
the Lotti
Crucifixus
, the Frank Martin
Mass
, and of course Copland's
In the Beginning
.
Of course there's a small irony–the cover photo shows the group holding music! But it's a great image of a large Prelude concert group in Seiji Ozawa Hall. One of these days I'd love to be in that setting; our Prelude performances have been done by small groups since I joined the chorus, so I've never performed in Ozawa.