This page contains links to scans of the April 1921 edition of the anonymous satire broadsheet at the University of Virginia, The Yellow Journal. My copy of the issue is in fragile condition, so I photocopied it at 2 copies per page, then scanned the photocopies at 600 dpi in greyscale, and made 100dpi lower resolution versions for web use. Because of the age and condition of the paper (considerable cracking at the folds), the reconstructed page may have some missing text where the top and bottom of the page meet.
Note: This is a period work and as such may contain some objectionable material. R.E. Harrison is identified as being "a Jew" multiple times in the pages scanned so far, for instance.
Each page is shown below with notes about the contents.
Page 1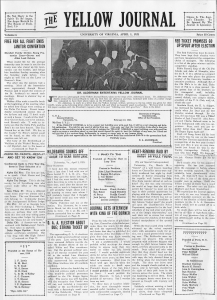 Headlines
Free for All Fight Ends Janitor Convention
Dr. Alderman Entertains Yellow Journal
Red Ticket Promises Go Up Spout After Election
Guide to Gazots: Read It and Get to Know 'Em
Hildegarde Sounds Off Again to Dear Hortense
Heart-Rending Raid by Local Police
G.A.A. Election About Due; Strong Ticket Up
Journal Gets Interview with King of the Corner
Also features boxes describing various fictional fraternities ("I Phelta Thi", "11", "?????????"), a purported letter from University president Edwin A. Alderman, and a photo of the Journal's editorial board with their faces burned out of the photograph.
Page 2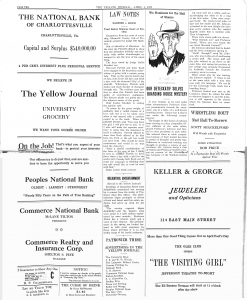 Headlines
Law Notes: Parrish v. Koch Tried Before Supreme Court of Carolina
Delightful Entertainment
Patronize These Advertisers in the Yellow Journal
Our Deteckatif Solves Boarding House Mystery
Ads
National Bank of Charlottesville
University Grocery
Peoples National Bank
Commerce National Bank
The Glee Club
Keller & George Jewelers and Opticians
Plus joke ads for a Wrestling Bout in Madison Hall ("Scott Shackelford Will Wrestle With Temptation") and others
Page 3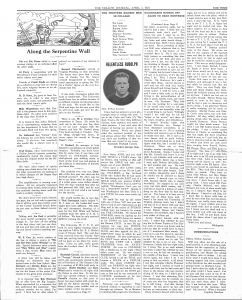 Headlines
Along the Serpentine Wall
The Thirteen Biggest Men in College
Relentless Rudolph
Hildegarde Sounds Off Again to Dear Hortense (from Page 1)
Communications
Illustrations and Photos
Cartoon: cow at a fence (for "Along the Serpentine Wall")
Photo: Randolph Fitzhugh Carroll, President German Club
Page 4
Headlines
All Fools' Day
Card of Thanks
Wading (A Ballad of Trotzky and Lenine) [song]
The Passing of the Chi Phi House (apologies to James Whitcomb Riley) [poem]
The Veteran (Virginia Version) [song]
A Sweet Briar Maiden's Prayer [poem]
New Wine in Old Bottles [song]
Ye Ballad of Politicians [poem]
The Thanksgiving Debauch [poem]
How Do They Know? [poem]
Illustrations and Photos
Cartoon: Editorials (student in bed)
Page 5
Headlines
Along the Serpentine Wall
Madison House Notes
Ads (real and joke)
Corks & Curls
"All American Piccolo Player"
New Records
Leave Your Valuables in Y.M.C.A. Lockers
Bogart Pretlow, experienced joke smith
F. R. Westcott, Trains Men for Long Distant Hikes
Page 6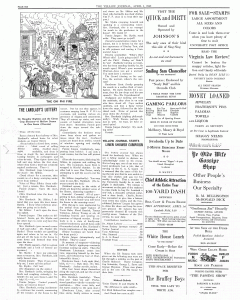 Headlines
The Landlady's Lottery, or, Naughty Nighties and the Clever Crap Shooters – a Mellow Drama in One Scene (Obscene)
Yellow Journal Starts Linen Shower Campaign
Ads
Page 7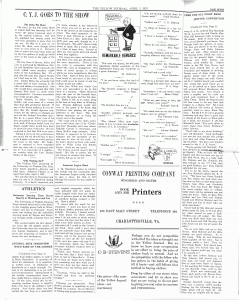 Headlines
C.Y.J. Goes to the Show – Phi Delta Phi Show, 'The Visiting Girl' (Virginia Glee Club production), American Legion Show
Athletics: University Dining Tam Scores Heavily at Washington and Lee
Journal Gets Interview with King of the Corner (from p. 1)
Free for All Fight Ends Janitor Convention (from p. 1)
Remarkable Remarks
Ads
Conway Printing Company
C.B. Stevens
Page 8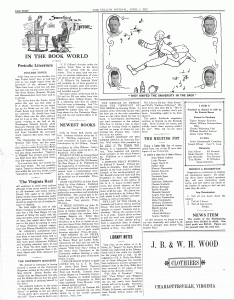 Headlines
In the Book World
Periodic Literature (College Topics)
The Virginia Reel
The University Magazine
Newest Books
Library Notes
The Melting Pot
Merely a Suggestion
News Items
I Gum U (fake secret society/fraternity)
Illustrations and Photos
Masthead: Something to the Editor
Cartoon: They Knifed the University in the Back
Ads
J. B. & W. H. Wood, Clothiers
Page 9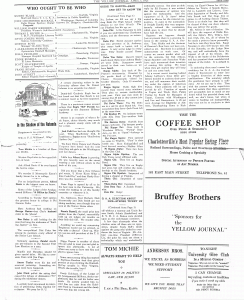 Headlines
Who Ought to Be Who
In the Shadow of the Rotunda
Guide to Gazots — Read and Get to Know 'Em (cont. from p. 1)
Illustrations and Photos
Masthead: In the Shadow of the Rotunda
Ads
Visit the Coffee Shop over Pence & Sterling's Drug Store
Bruffey Brothers "Sponsors For the Yellow Journal"
Tom Michie: Always Ready to Help You
Anderson Bros.: We Excel as Robbers/We Need Student Support
To-Night: University Glee Club in a Musical Comedy
I Can Change Any Ruling, Custom or Tradition (if you make it worth my while)
Page 10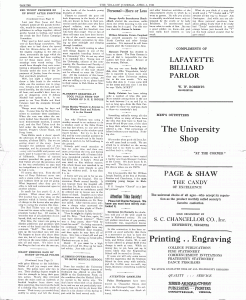 Headlines
Red Ticket Promises Go Up Spout After Election (cont. from p. 1)
Heart Rending Raid by Hardy C'Ville Police (cont. from p. 1)
Plunkett Grasping at Tool Falls From Top Floor of D.K.E. House
Alumnus Offers $10,000 to Move Medical School
Personal — More or Less
Ads
Attention Tilka Society!
Attention Gamblers
Lafayette Billiard Parlor
The University Shop
Page & Shaw: The Candy of Excellence
Printing –  Engraving: Surber-Arundale Company