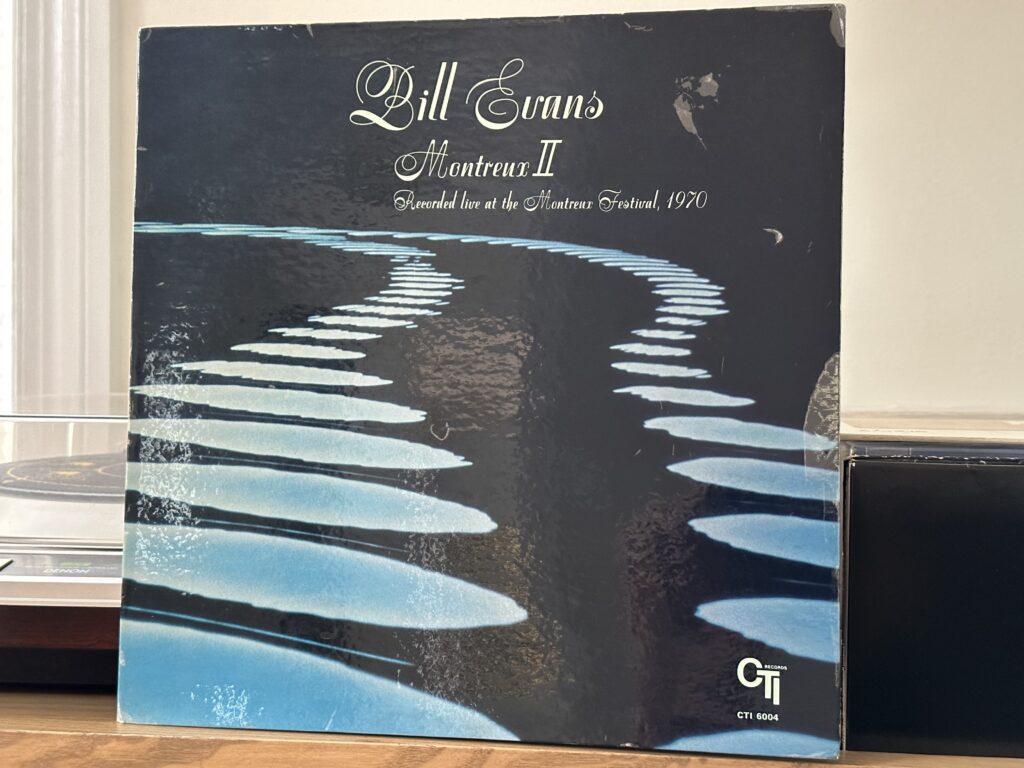 Album of the Week, February 25, 2023
It's a little unfair to say that Bill Evans' best albums were recorded in the 1960s. He had a productive decade in the 1970s, recording for Columbia, Milestone and Fantasy. But his most enduring compositions were written in the 1960s. We've already heard many of them; they continued to feature on the many live albums he recorded during the decade. Picking up a Bill Evans recording from the 1970s, therefore, the odds were that it was live and covered familiar ground… mostly.
Much of Evans' creativity during these years, ultimately, was in his interpretation and in his song choices. Both elements are broadly on display in Montreux II, Evans' second live recording from the Montreux Jazz Festival and his final recording for producer Creed Taylor, this time on Taylor's own CTI label.
We're going to hear a lot more about CTI in coming weeks (spoiler alert!), but in this early stage of evolution the label was a bright cross-section of straight ahead jazz, proto-jazz-funk, and some reasonably out-there avant-garde stuff. Consider that the first recorded artists in the CTI 6000 series included flautist Hubert Laws, Freddie Hubbard in an early jazz-funk masterpiece, Antonio Carlos Jobim, Joe Farrell, and this Evans date. There is, however, very little of the hallmarks of the classic CTI period here – no big string section orchestrated by Don Sebesky, no jazz-funk, very little in the way of nods to popular music. There's just the Bill Evans Trio, doing what they did best.
This incarnation of the trio saw Jack Dejohnette (who had left to join Miles following At the Montreux Jazz Festival) with drummer Marty Morell, who would work with Evans and bassist Eddie Gómez from 1968 to 1974. Morell brought steady support and a solid presence behind the kit; while his level of creativity was not as high as Dejohnette, his fills and statements were more assertive than those that Paul Motian, for instance, had brought to some of the earlier trio recordings.
The tone, overall, is jubilant. Evans was playing in an extroverted manner here (relatively speaking). Tempos are brighter and even the ballads have the hint of a smile at the corner of their mouths, metaphorically speaking. The repertoire, as noted above, is a combination of familiar Evans compositions ("Very Early," "34 Skidoo," "Peri's Scope"), covers of well loved favorites ("How My Heart Sings," "I Hear a Rhapsody," "Israel"), and a surprise. Starting in the 1970s Evans began to turn toward modern pop songs for repertoire, and this record features a surprisingly tender cover of the 1966 Bacharach/David hit "Alfie." The first half of the ballad is entirely Evans and Gómez, but Morell joins them for a rhythmically jubilant verse before the trio returns to the more contemplative tone of the opening, with Gómez's bass providing propulsive energy under the melody. It serves as a blueprint for the whole album.
One of the saddest questions we must ask about Evans' career is where he would be without his crippling heroin addiction. Unlike past addicts we've seen like Philly Joe Jones, John Coltrane, and others, Evans was always careful not to let his habit interfere with his performances or his studio work (except for one memorable occasion when he accidentally hit a nerve with the needle and had to play largely one-handed for a week), but it clearly became an escape for him, and one that was only replaced by cocaine or alcohol on the brief occasions when he managed to get off the drug, from the time he got hooked in 1958 to his death in 1980. It has been described as the "slowest suicide in history," and there's no doubt that it interfered with his compositional creativity. But throughout that incredible ear remained as the hallmark of this most sensitive pianist. And his work remains as an influential milestone on jazz, one that a variety of unlikely musicians would pay tribute to after his death. We'll hear one of those recordings next time.
You can listen to the album here: