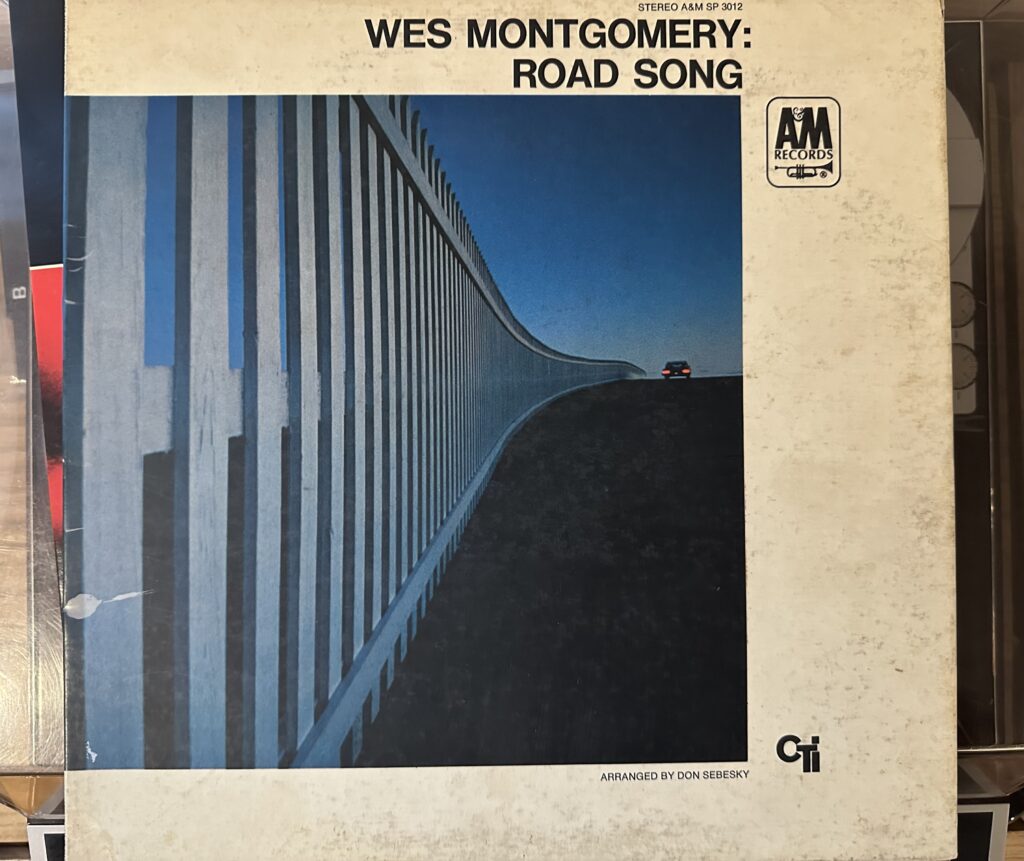 Album of the Week, April 1, 2023
Though still technically under the banner of A&M Records, Creed Taylor's CTI had already firmly established its visual identity by the late 1960s, as we saw with last week's look at Wave. Today we explore some of the development of its sound by looking at the twelfth record in the catalog, a posthumous release from guitarist Wes Montgomery.
Montgomery had begun his career in the late 1940s with Lionel Hampton, having taught himself the guitar at night while working during the day for the milk company. When the big band gig didn't pan out, he returned to working day jobs while forming a combo with his brothers and playing small clubs. He was discovered in 1958 by Cannonball Adderley, who recommended to Orrin Keepnews that he sign Montgomery to his Riverside Records label. Montgomery went on to record a well regarded string of albums on Riverside before leaving in 1963 for Verve to record with Creed Taylor.
Taylor saw the potential for Montgomery's clean, melodic style to cross over into the instrumental pop market and recorded a series of albums that established him as a bankable star, beginning with Movin' Wes and including the great Bumpin', which featured the guitarist with one of the great over the top '60s pop string sections on the title track. The orchestra on this recording was arranged by Don Sebesky. We'll hear a lot about Sebesky over the course of these reviews; for now I'll just observe that this is the first name in this column that I first saw in a Boston Pops program.
So it was that, following a string of recordings for Verve that include some great small group sessions with Jimmy Smith and a lot of instrumental pop, Montgomery recorded several sessions for Taylor's sub-label CTI, leading off the label's discography with A Day in the Life and returning to Rudy Van Gelder's Englewood Cliffs studio on May 7 and 8, 1968 to record this album. Just over a month later he was dead, having suffered a heart attack at home in Indianapolis at the age of 45. Was the final recording he made in his lifetime worthy of his legacy?
I think it kind of depends on how you look at it. A jazz session it's not, and it's not the best instrumental pop he ever recorded either. Sebesky's arrangement on "Bumpin'" is so legendary that it led off a 1990s Verve compilation of "acid jazz." The arrangements on Road Song, alas, are not quite so stunning. Montgomery's guitar does not quite engage with the strings and horns and harpsichord(!) around him. But the band that Taylor assembled here is no group of slouches, with Herbie Hancock, drummer Grady Tate, pianist Hank Jones (that's him on the harpsichord), and the great bassist Richard Davis joining the strings. The overall effect is pleasant enough, though it must be said that the main pleasures of the album are Montgomery's legendary touch with the guitar and not the setting Taylor puts him in.
So far we've heard the more instrumental pop, almost easy listening side of the CTI label. We'll hear a very different sound next time, one that would come to dominate the way the label was perceived—and change the course of jazz as it entered the 1970s.
You can listen to the album here: