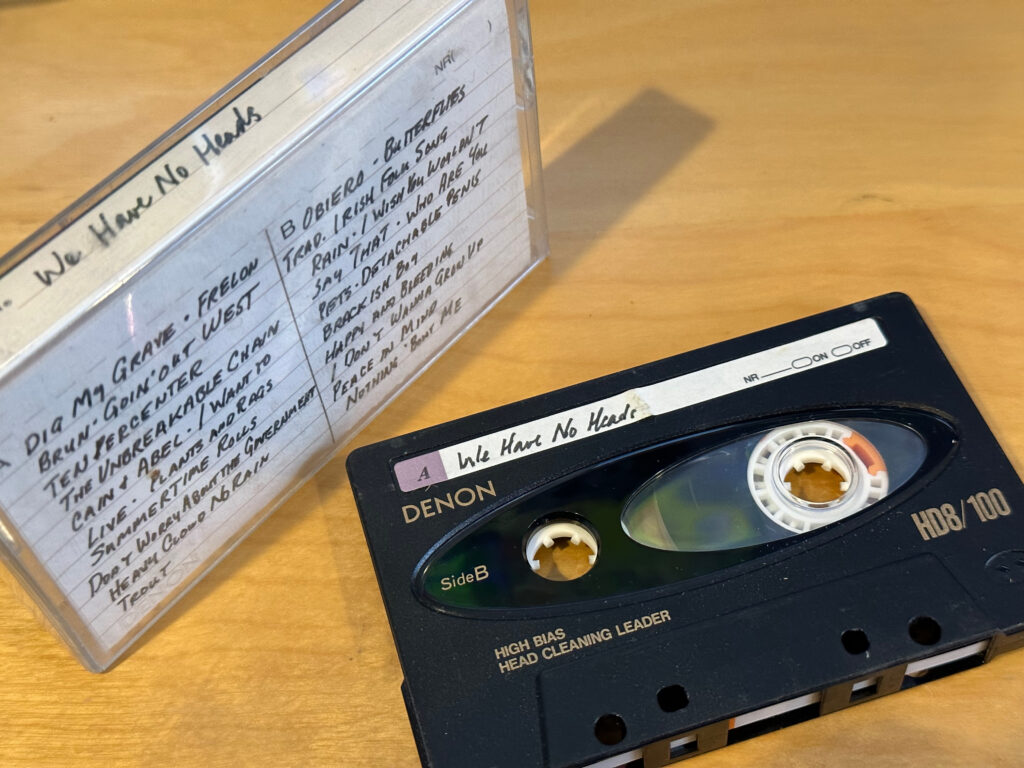 Sometimes my early mixes are what might charitably be described as "all over the place." (Heck, sometimes my late mixes are too.) This one, which was assembled sometime around May of 1993, definitely fits that description.
There comes a time in every young music head's life when they discover Tom Waits. For me, that was clearly happening right about the time this mix was made. It was fortuitous that Apollo 18 by They Might Be Giants had come out about six months previously, as the frenetic energy of the opening track plays nicely with "Goin' Out West." (Side note: because I bought a lot of my CDs through music clubs at this stage in my life, I was almost always late to the party when a new album was released. If I recall correctly, it could be a few months before a new release was available in the mail order catalog. —And yes, mail order catalog, because this was right before the Internet began to eat that business model.)
Between those two tracks is "Frelon Brun," from Filles de Kilimanjaro. I had just picked up this CD, having fallen in love with the title track, which appeared on Miles' The Columbia Years anthology (another box set I snagged at a discount). "Frelon Brun" is probably the most rock-oriented of the performances on that album; for one, it's the only track that is under 6 minutes long. It's funky and powerful and fun. On this album it punctuates the ferocious energy of the tracks on either side.
Side 2 opens with Ayub Ogada's "Obiero," a track that appears in slightly different forms on both his own En Mana Kuoyo and Peter Gabriel's Plus from Us anthology; it's the latter that appears here (and coincidentally helps to date the mix, since Plus from Us was released on May 16, 1993). That's followed by "Rain" by An Emotional Fish, which was on the Spew 2 promotional compilation (which I've since lost), alongside King Missile's dryly hilarious "Detachable Penis" (which also appears on this mixtape). And then comes "Traditional Irish Folk Song," from Denis Leary's comedy album No Cure for Cancer. Like I said, charitably described as all over the place.
This mixtape also memorializes the beginning of my interest in PJ Harvey, having picked up Dry based on word of mouth from the crew in the basement of Peabody Hall, i.e. the publications staffs of the Declaration and The Yellow Journal. I was still digesting the Talking Heads, having picked up the Sand in the Vaseline compilation earlier that year. And, having bought Neneh Cherry's great Homebrew on a whim earlier that spring, I discovered the seductive pleasures of "Peace in Mind" by blasting the album out my Monroe Hill window one Sunday afternoon as we played an impromptu volleyball game.
Dig My Grave

–

They Might Be Giants

(

Apollo 18

)

Frelon Brun (Brown Hornet)

–

Miles Davis

(

Filles De Kilimanjaro

)

Goin' Out West

–

Tom Waits

(

Bone Machine

)

Ten Percenter

–

Frank Black

(

Frank Black

)

The Unbreakable Chain

–

Daniel Lanois

(

For The Beauty Of Wynona

)

Cain & Abel

–

Branford Marsalis Trio

(

The Beautyful Ones Are Not Yet Born

)

I Want To Live

–

Talking Heads

(

Sand In The Vaseline Popular Favorites 1976-1992

)

Plants And Rags

–

PJ Harvey

(

Dry

)

Summertime Rolls

–

Jane's Addiction

(

Nothing's Shocking

)

Don't Worry About the Government

–

Talking Heads

(

Talking Heads: 77

)

Heavy Cloud No Rain

–

Sting

(

Ten Summoner's Tales

)

Trout

–

Neneh Cherry

(

Homebrew

)

Obiero

–

Ayub Ogada

(

Plus From Us

)

Butterflies

–

Toad the Wet Sprocket

(

Fear

)

Traditional Irish Folk Song

–

Denis Leary

(

No Cure For Cancer

)

Rain

–

An Emotional Fish

(

Junk Puppets

)

I Wish You Wouldn't Say That

–

Talking Heads

(

Talking Heads: 77

)

Who Are You

–

Tom Waits

(

Bone Machine

)

Pets

–

Porno For Pyros

(

Porno for Pyros

)

Detachable Penis

–

King Missile

(

Happy Hour

)

Brackish Boy

–

Frank Black

(

Frank Black

)

Happy And Bleeding

–

PJ Harvey

(

Dry

)

I Don't Wanna Grow Up

–

Tom Waits

(

Bone Machine

)

Peace In Mind

–

Neneh Cherry

(

Homebrew

)

Epilogue (Nothing 'Bout Me)

–

Sting

(

Ten Summoner's Tales

)
You can listen to (most of) the mix via Apple Music here: