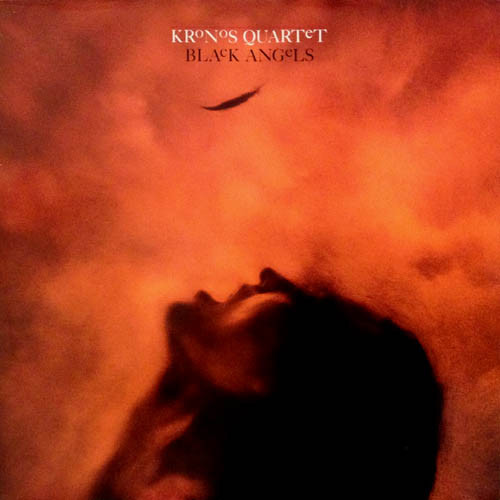 It was the summer of 1990. I had just graduated high school. I had a little pocket money, from graduation gifts and maybe from a job, though I can't remember which one. (I had stopped working at Sam's Comics and Collectibles several years prior. Maybe I carried on at CEBAF for one more summer.) And most importantly, my parents had given me my first CD player, an all in one CD + cassette + (rarely if ever used) radio. So I went shopping for music, at the little store at the corner of Denbigh and Warwick (Tracks? Mothers? I think it might have been both at one time or another).
Though I'm fuzzy on some of the surrounding details, I still remember the first stack that came home with me that summer, which included Branford Marsalis' Crazy People Music and the Kronos Quartet's Black Angels. I still can't say what attracted me to the latter. I had probably heard someone talking about the nerve of the string quartet from San Francisco that played Hendrix and Monk, and had an ambient sound piece on one of their albums called "A Door is Ajar." (It is exactly what you think it is.) But nothing prepared me for this.
"Black Angels" was an avant-garde composition protesting the Vietnam War, written by George Crumb in 1970 and incorporating amplification, percussion, chanting and more. It's completely mind-blowing and I suspect that my mind never fully recovered from the initial threnody, "Electric Insects." But it's followed by a realization of the great 40-voice Tallis motet "Spem In Alium," performed in overdubs; Istvan Marta's "Doom. A Sigh," which sets the quartet alongside two Romanian women lamenting the disappearance of their traditional village life; a quartet setting of Charles Ives' 1942 anti-war song "They Are There" alongside the composer's own voice; and a shattering performance of the Shostakovich Quartet no. 8.
By the time the disk finished, I was a lifelong fan of the Kronos Quartet; of avant-garde classical music; of Tallis; of Shostakovich; of the string quartet form. And of music. I think this disk was the first time I really realized the power of unfamiliar sound to pull my mind out of its normal travels.
I ripped the CD years ago and don't play it as much any more, but this spring I found a rare LP copy on Discogs and listened to it again. It's still as powerful 30 years later.