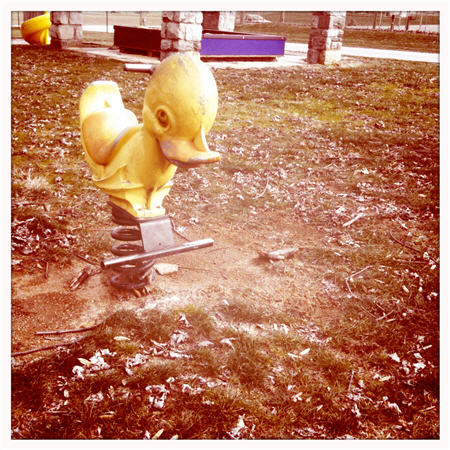 I am often awakened these days at 4 am by our dogs. As I stumble over the pile of clothes I leave beside the bed for the early morning wakeups, our girl dog whines urgently. I take them outside in the early morning pearl-light and return to bed.
This day, like many, the next step is my son awakening at 5:15. My wife takes pity on me this morning and gets him, leaving me to unsettled dreams. I am just starting to get past the unsettled sleep schedule that has kept REM sleep at bay for almost a year, and my dreams crowd in resentfully when they are allowed.
This morning, after I rolled back over, I helped house guests down to our basement, where we walked through the tunnels that connected the house to Boston's Red Line. Arriving a few stops later, we were in DC, where we walked past the Space Needle and along the booths of an outdoor festival. I spotted a pair of students from the University of Virginia, who helped me find graduation programs and band posters from the early 1990s. It struck me that it was like eBay but with sellers you could actually talk to. And then I woke up.
It seems as though the last 17 years, since I started as a young, know-nothing business analyst at American Management Systems, have flown by. It was only a few years after that that I picked up Sonic Youth's Washing Machine and had the top of my head removed. I'm listening this morning to the uncut version of "The Diamond Sea," and as always I'm floating in infinity, carried along by the interplay between Thurston and Lee. Then hits the point about 11 minutes in where the ripples have calmed and all that is left is the drone, until a new voice clusters around the second and diminished second in the chord. A storm has blown up. All I can do is hold on and ride.