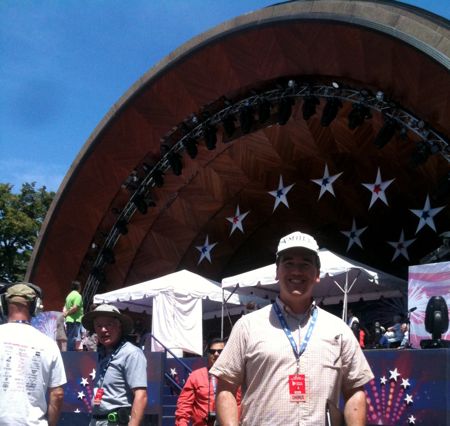 This weekend I had one of those eerie experiences where you step into a picture you've always watched, but never imagined yourself in.
When I was growing up, the Fourth of July meant band concerts at Fort Monroe–if you're growing up in Tidewater Virginia, military base concerts are your best bets for live music and fireworks–but it also meant the Boston Pops on TV. I remember vividly watching in the late Fiedler years, then later in the John Williams era. I made a pilgrimage to see the event in person in 2001, at the dawn of this blog. When we lived in Seattle we'd watch the show televised from the Hatch Shell and think about being in Boston. When we moved back to the area, we watched on the big screen at Robbins Farm Park, or else simply flaked out in front of the TV (the best place to watch the Aerosmith spectacle from a few years back).
But I never dreamed I'd be singing on the stage, in front of about 800,000 people. We had a warmup concert on the 3rd with an audience in the tens of thousands, but it was no preparation for the crowds, the heat, and the excitement. The music for a July 4 concert can be expected to be the usual patriotic numbers, and this year did not disappoint, but there were also some truly moving moments, such as the tribute to the Kennedy brothers–which, judging from the feedback on Twitter was a highlight of the show (at least for some). I hope we get a chance to do the show again soon–maybe with a few more lyrics and less humming.
See also: my photos from the weekend.