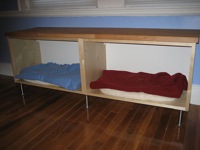 As detailed on these pages back in October, I started our first real IKEA Hack project at the tail end of the kitchen renovation. We wanted a bench for the dining room and a place for our Bichons to sit while we ate. In October, I did the first part of the project—building the carcass of the bench from two 27 inch Värde wall cabinets, fastened side by side, and six Capita legs. And there the project sat while we finished the kitchen and took care of some other work around Christmas. I did manage to trim down a section of a Pronomen countertop, which had been in temporary use in our kitchen before we started the project
This weekend I finally got around to finishing the project, which entailed fastening the countertop to the bench base with 1 3/4 inch #10 Phillips screws. If I had to do it over again, I would have laid some felt down between the countertop and the bench carcass, because I notice an occasional squeak from the bench. But overall it's a pretty functional unit, and it's rock solid. And the dogs love it—we put in 24″ dog beds and now if we're in the dining room, they're in the bench. If they're not begging, that is.
Photos from both stages of the project, now including the finished bench top, are on Flickr.