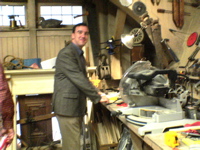 Lisa and I went to the studio where Ask This Old House is filmed last night and met Norm Abram and Tom Silva, who for most of us housebloggers almost need no last names, much less the mention that they are the carpenter and general contractor for This Old House. It was a fun evening and a good fundraiser for WGBH.
Alas, my cameraphone got only blurry photos (as you can see). But we heard plenty of great stories and one liners, such as Norm's confession that he and producer Russell Morash keep the furniture that Norm builds on the New Yankee Workshop ("There are two copies of each piece, the prototype and the one that I build during the show. Russell gets one and I get the other. Sometimes a family member will get one — on loan.") and, answering a subsequent question about how Norm chooses his projects for that show, "I look around the house and ask myself, what do I need?"
Tom Silva fielded a wide variety of questions, most (for some reason) having to do with insulation. In particular, he told Lisa that to seal the gaps left in our garage walls and ceiling when our ducts were run for the Unico system, we need to use an expanding caulk called "fire caulk"—primarily because of the garage location.
I also got a chance to shake Norm's hand and thank him, on behalf of all us housebloggers, for the content on the This Old House website, which I told him fills the role of the New York Times for an authoritative link site for housebloggers. His eyes glazed a little when I said the word blog, but he was very polite. So there you go.