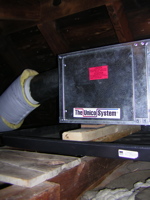 Yesterday's first day of installation went pretty well. Our contractors spent the morning preparing the small air handler by installing an expansion valve, then managed to load it into our small attic (in spite of a very small access panel and a very tight roofline) and spent the rest of the day preparing and insulating the main ducts and marking the locations for the ducts on the second floor. I didn't manage to get many photos, but that's our air handler and the very tight space around it.
A word about our installation: we are going for a full conversion. As I mentioned before, we're getting a Unico system installed. Our setup consists of two small air handlers, the aforementioned attic one for the upper level and one in the basement for the lower two floors. Our contractor is combining this system with a high efficiency gas boiler which will provide indirectly heated hot water to coils in the air handler that will provide heat in the wintertime. As a consequence, we get to eliminate the old boiler and all the radiators.
Of course, this means the installation is a little more complex than a straightforward AC installation. So the workers are doing it in two phases. Phase 1, which is this week, is the upstairs work, plus installation of the compressor and removal of the steam radiators. Phase 2 is installation of the downstairs air handler and ducts, plus installation of the new boiler and removal of the old one. That phase will occur the week of July 4—when I'll be at Tanglewood with the BSO, keeping cool in a different way.