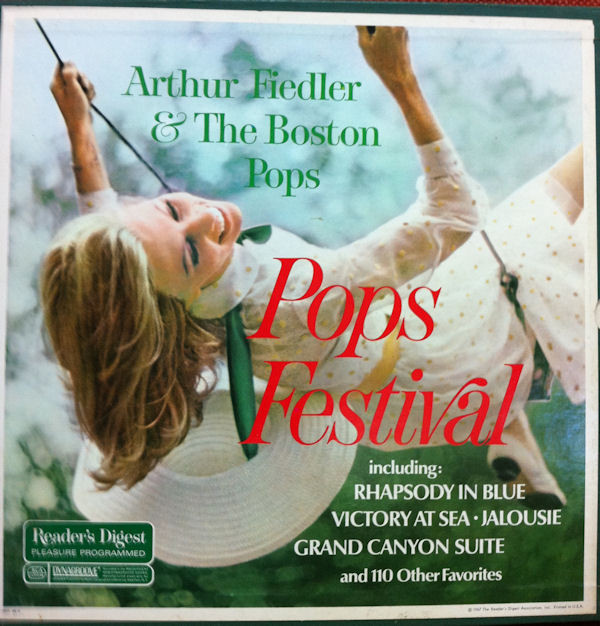 I got a bunch of Boston Pops records from the 1960s and 1970s. This is one in a series of blog posts about them.
This is it. This is the record (er, 10 record set) that got me started down this slippery slope. Pops Festival is a "Reader's Digest Pleasure Programming" boxed set of ten LPs containing what appear to be reissues of many Pops records and recordings from the 1960s on up.  It's a truly massive set that hits huge chunks of the Pops' repertoire (light European classics and waltzes, American orchestral works, pop favorites), only omitting Christmas music.A gift from my mother-in-law from my late father-in-law's collection, I had only looked at bits of it until recently when I decided to buckle down and listen to the whole thing (and digitize it for easier review later).
While I haven't been able to listen to all the records, I believe the set has tracks from at least the following Fiedler/Pops recordings:
And that's just the first few that I checked. Of course, there's a lot of room on two sides of 10 LPs.
Which leads to the best and worst things about this monumental set. It's tremendously rewarding to immerse yourself in this set. It's also impossible to consume in one sitting. But the just under 100 (!) selections in the set are a fascinating cross section of Pops repertoire, opening with Rhapsody in Blue and An American in Paris, cheek by jowl with selections from My Fair Lady and Bernstein's Fancy Free. Ferdé Grofé's Grand Canyon Suite sits on one side of disc 2; a set of Leroy Anderson favorites ("The Typewriter," "The Syncopated Clock," "Chicken Reel") on the other. Victory at Sea tunes are opposite a side of Latin dance music. Other records have family-friendly light classical repertoire, Viennese waltzes, and a side of dance tunes that concludes with the Pops' arrangement of "I Wanna Hold Your Hand."
Though I'm fairly sure that it was Readers' Digest editors, not Fiedler himself, who selected and sequenced the anthology, the breadth and range of the repertoire makes a strong argument that the distinction between "high" and "low" art — or brow, if you will — is largely imaginary. If it's good, Fiedler's performances seem to say, it's worth playing, regardless of where it comes from. There a spirit of generosity, and even more broadly, of democracy in the collective weight of this set. It's an argument that would be interesting to revisit in the repertoire of the current Pops.