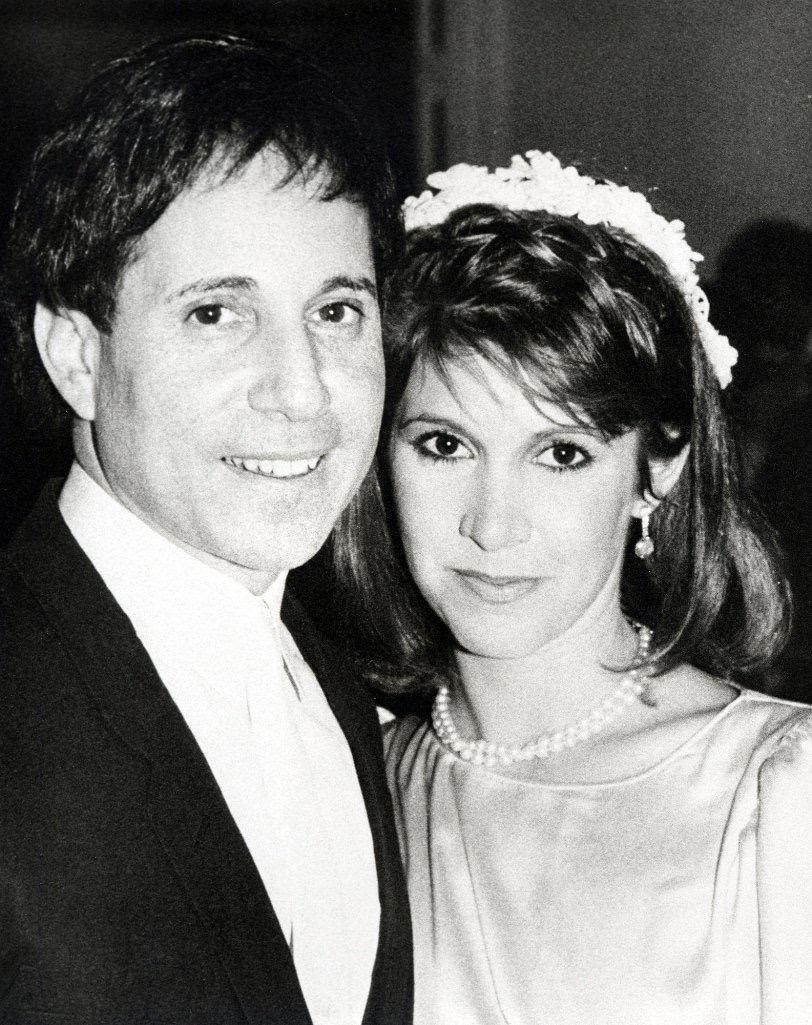 Yes, of course I'm sad about the loss today of Carrie Fisher, probably my first preteen crush and certainly my first model of a strong female lead. (At least in A New Hope.) And then she was my first seriously funny, seriously damaged novelist (I read Postcards from the Edge in high school), and later a kind of shamanic touchstone in any movie in which she appeared. But the main thing is she was there, fiercely telling critics even this year to blow her. As more people who seemed eternal verities in our cultural hoard are taken by 2016, of course I want to roar.
But I'm also wistful. Paul Simon, Fisher's ex husband and longtime friend, in some ways eulogized her best in songs on Hearts and Bones, Graceland, and Rhythm of the Saints, the youngest of which is now over 25 years old. And today I think about "Hearts and Bones":
Thinking back to the season before

Looking back through the cracks in the door

Two people were married

The act was outrageous

The bride was contagious

She burned like a bride

These events may have had some effect

On the man with the girl by his side

The arc of a love affair

His hands rolling down her hair

Love like lightning, shaking till it moans

Hearts and bones
And "Train in the Distance":
The thought that life could be better

Is woven indelibly

Into our hearts

And our brains
And "Graceland":
She comes back to tell me she's gone

As if I didn't know that

As if I didn't know my own bed

As if I never noticed

The way she brushed her hair from her forehead

And she said "Losing love is like a window in your heart

Everybody sees you're blown apart

Everybody feels the wind blow"
And "She Moves On":
And she says "maybe these emotions are as near to love as love will ever be"

So I agree

The moon breaks

She takes a corner, that's all she takes, she moves on.
Dammit. And now I want to read her autobiography and hear her side of the story.