Today was the first day I broke out my tweed jacket. Jim's ex-girlfriend used to say that she knew when fall arrived, because I would be wearing my tweed. It'll only be in the fifties today, so I suppose this counts as fall.
The tweed was a souvenir from our trip to Ireland a few years ago. We bought it in a small shop down the road from the town of Ardara. [Heh: I said "small shop," but they have a web page. Then again, so do I]. The fall there was much more dramatic even than New England, as I think this illustrates: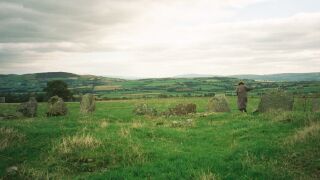 As always, fall brings with it insanely busy times. This has been one of them. The week is almost done, thank goodness.
Enough. Working now.