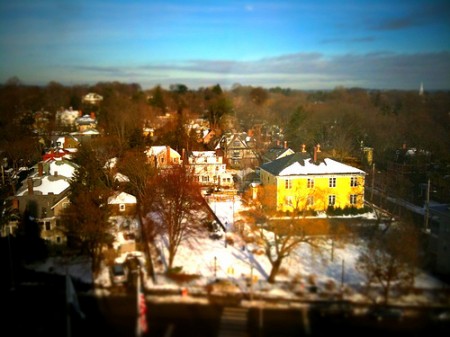 Things have been a little quiet on the blog, even on the linkblog, this month. That's because things have been anything but quiet in the rest of my life.
We have all but finished the addition project; I'll be posting pictures of the finished work later. I've been insanely busy at the office, running from a web platform release (our seventh this year) to a couple of large projects to budget meetings. Then there's been Holiday Pops. I still have a couple more concerts to sing for that…
Christmas itself has been a little challenging this year. My father-in-law fell on the second night of his visit. Originally we thought he was OK, but his pain was getting worse, so we took him to the hospital. Turns out he had a compression fracture of one of his lumbar vertebrae. So he's spending Christmas in the hospital (that's a seasonably snowy picture from the hospital window above), and we're not very festive at the house. He seems to be getting better; hopefully we will have some time with him here at home soon before everyone has to go back to work.
Not that being home isn't work–what with putting together Christmas presents and moving into our new bedroom, I've been a busy beaver indeed. But I've still taken time out to watch A Charlie Brown Christmas (on one of our Christmas presents–a new bigger flatscreen, so that we can put the old one in the basement guest bedroom). After all, I need to thank Mr. Schulz's creation for driving a ton of traffic to my blog–the number one search term since Thanksgiving around here has been "charlie brown christmas tree," leading to an old article about Urban Outfitters' replica of the tiny real Christmas tree from the show (and amazingly, they still make it).
Ah well. The rest of the family can nap. I'm off to figure out how to cook the duck breasts we got for Christmas dinner. Maybe we'll give the recipe with the cherries and port sauce another go. Or shall we just do a sweet cherry sauce? A pomegranate-wine sauce? Balsamic and apricot? The blood orange sauce I made for Valentines Day in 2005? Or maybe I'll just punt and do a pan sauce. We'll see. I like having these kinds of dilemmas.