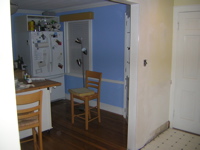 And in this case, I mean the closure of the walls over the new pipes and electrical. But I'm not ready to show that yet, so I've just uploaded a few details of some of the finished work for your enjoyment. I've decided to keep one big photoset of the renovation as it progresses, so you can find all the newest photo-y goodness in one place (the same photoset about which I wrote before).
Basic status update: the new plumbing and electrical was completed and inspected week before last. Last week the wall was taken down, the new structural beam was installed, and the plasterers closed up the existing wall openings (as well as some old ceiling holes…yay…)
So what's next? Well, the responsibility is back on our shoulders this weekend. I need to prime and paint the new plaster surfaces, install the base cabinets, and probably properly hang the cabinet above the fridge. Then next week our contractor's team will hook up the stove in its new location (and, I think, install the fan hood, though I need to confirm that) and run a line for the fridge's icemaker up into its opening. So at some point next week we will be able to move much of our kitchen operation back out of the dining room. (The photoset has a glimpse of how we've temporarily set things up.)
The long pole in the tent is the countertop, but I expect that to arrive so that we can install it soon. Then our contractor will re-install the sink (along with a much needed sink-side drinking water filter) and… drum roll please… our new dishwasher. This will be the first dishwasher the house has ever had, and it is the reason for the whole renovation. Funny how a few thousand dollars to create space for the dishwasher among the existing cabinets (the house has never had one and there was no easy way to hook it into the current plumbing or electrical) turned into a whole kitchen renovation.