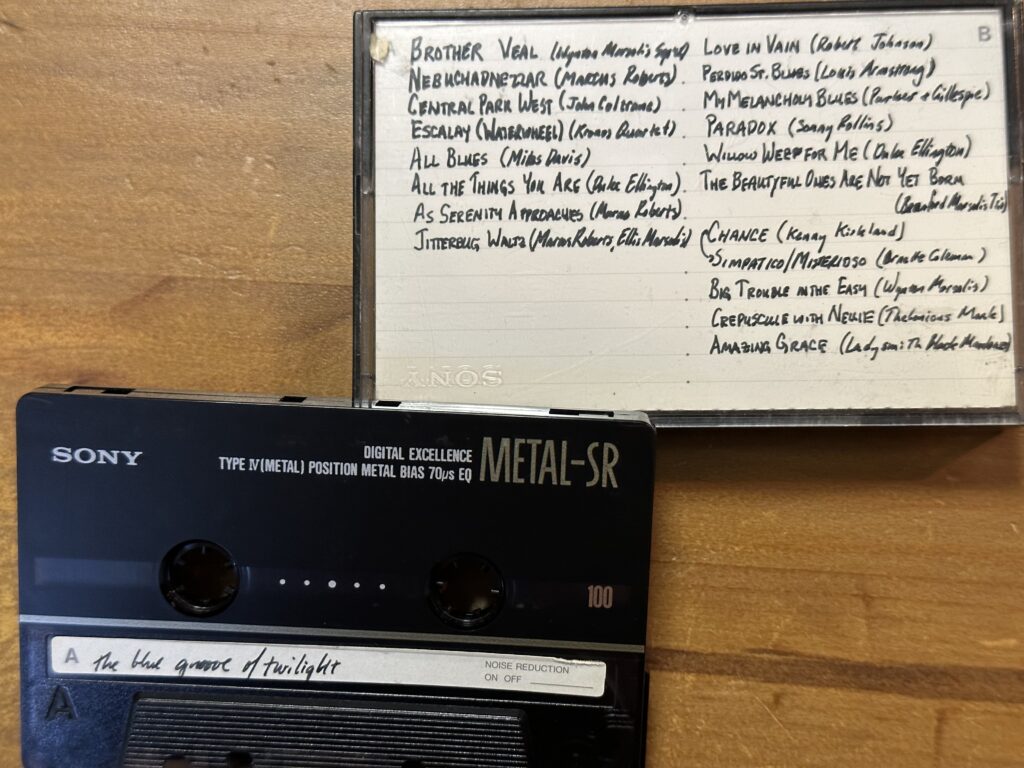 One of the things that happened when I got to the University of Virginia was that I began to branch out in my musical tastes—or, maybe more precisely, I began to explore each of the branches I had already grown to like. In this case, it was jazz, and while I had made mix tapes containing jazz music before, this was the first to be (almost) entirely devoted to jazz.
I found my way into jazz from Sting, whose band in the mid to late 1980s was made up of jazz musicians; from summer concerts at Fort Monroe; and from my mom's record collection. She had some Ahmad Jamal and Dave Brubeck and Ramsey Lewis—nothing too outré but enough to convince me that I wanted to listen to more. I also knew, from U2, that I ought to listen to John Coltrane's A Love Supreme. I didn't really know anyone else who listened to jazz, so I had to find my own way in.
Because I liked to read liner notes, I found myself drawn to the Original Jazz Classics reissue series of classic jazz albums on CD when I was at UVA. There was so much context on the back of those albums! You could see who the players were, read reviews, and more without even opening the album. That's how I started to dig back into some of the great '50s and '60s recordings. I also picked up the threads of Sting's band, listening to Branford, then Wynton, then Wynton's band and Kenny Kirkland.
Because I have never been able to focus exclusively, a couple of jazz-adjacent tracks snuck onto this mix. Most notably, "Escalay" from the Kronos Quartet Pieces of Africa appears. While this is nominally a classical or world music track, it has enough in common with the works around it—a strong rhythmic foundation, a modal scale, an improvised solo—to fit in nicely. The other, Robert Johnson's "Love in Vain," was added to provide an anchor point for some of the other explorations of blues through the jazz idiom on Side 2. And I couldn't figure out how to end the mix, so I dropped some Paul Simon and Ladysmith Black Mambazo in; it fits better than you'd think because of the vocal improvisation and the general mood.
For the actual jazz tracks, there's a pretty good range of stuff. Of course we touch on Kind of Blue, but there's also Coltrane's Sound and Ellington Indigos. I really like the tracks from Marcus Roberts, the pianist and composer who was the nucleus of Wynton Marsalis's late-1980s/early-1990s band. And there are a couple of nice sets on the second side, with the early jazz workouts of Louis Armstrong, Charlie Parker and Sonny Rollins contrasting with the more abstract work of Branford Marsalis, Ornette Coleman and Kenny Kirkland.
Brother Veal

–

Wynton Marsalis Septet

(

Blue Interlude

)

Nebuchadnezzar

–

Marcus Roberts

(

Deep In The Shed

)

Central Park West

–

John Coltrane

(

Coltrane's Sound

)

Escalay

–

Kronos Quartet

(

Pieces of Africa

)

All Blues

–

Miles Davis

(

Kind of Blue

)

All the Things You Are

–

Duke Ellington

(

Ellington Indigos

)

As Serenity Approaches

–

Marcus Roberts

(

As Serenity Approaches

)

The Jitterbug Waltz

–

Marcus Roberts

(

As Serenity Approaches

)

Love In Vain Blues (Alternate Take)

–

Robert Johnson

(

The Complete Recordings

)

Perdido Street Blues

–

Louis Armstrong

(

Louis Armstrong Of New Orleans

)

My Melancholy Baby [Alternate Take]

–

Dizzy Gillespie & Charlie Parker

(

Bird And Diz (+3)

)

Paradox

–

Sonny Rollins

(

Worktime

)

Willow Weep For Me

–

Duke Ellington

(

Ellington Indigos

)

The Beautyful Ones Are Not Yet Born

–

Branford Marsalis Trio

(

The Beautyful Ones Are Not Yet Born

)

Simpatico – Misterioso

–

Howard Shore/Ornette Coleman

(

Naked Lunch

)

Chance

–

Kenny Kirkland

(

Kenny Kirkland

)

Big Trouble In the Easy (Pedro Pops Up)

–

Wynton Marsalis

(

Tune In Tomorrow… The Original Soundtrack

)

Crepuscule With Nellie (Take 6)

–

Thelonious Monk

(

Monk's Music

)

Amazing Grace

–

Ladysmith Black Mambazo with Paul Simon

(

Journey Of Dreams

)
If you are an Apple Music subscriber, you can listen to (most of) the mix here: